Clothing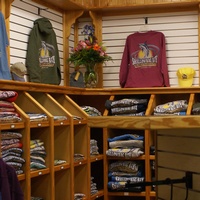 You will find many choices in our Ship's Store. For the Ladies, you will find short sleeve, V-neck T-shirts and long sleeve T-shirts with the Shallowbag Bay Marina logo as well as lovely long sleeve V-neck French Terry sweaters and long sleeve Tees both with embroidered logo.
For the men, we have short and long sleeve T-shirts with logos. Many with designs of the fish you can catch in our waters - Rockfish, Red Drum, Tuna, Sailfish and Marlins.
The store stocks long sleeve youth T-shirts and will have children's styles coming soon.
For all, we have hoodies with logo in both a pull over and full zippered style. Regular sweatshirts are also available, of course, with our logo. Scarves, Hats - watch caps and baseball, as well as gloves and assorted other items are available.
Ladies
Short Sleeve
V-Neck
Long Sleeve
V-Neck French Terry
Sweaters
Hoodies
Pullover
Full Zipper
Sweatshirts
Scarves
Hats