Acommodations
SBC Condos for rent
The Shallowbag Bay Club is located on the Outer Banks, North Carolina in Manteo. This premier marina front community offers spectacular views of the Roanoke Sound and luxurious Outer Banks rentals. Accommodations range from 1 to 4 bedroom upscale condos, perfect for an Outer Banks romantic getaway and small family vacations. An on-site restaurant- Stripers Bar and Grille, offers an eclectic menu and waterfront dining at its best.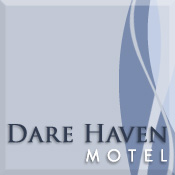 Dare Haven Motel
819 U.S. Highway 64
Manteo
(252) 473-2322
Dare Haven Motel offers budget motel accommodations in a central location, about 3 miles from Fort Raleigh and The Lost Colony site and about 1 mile from downtown Manteo. The motel offers 27 rooms, each with a refrigerator. High-speed internet is available.
http://darehaven.com
Roanoke Island Inn
305 Fernando Street
Manteo
(252) 473-5511
The Roanoke is one of Manteo's most beautiful historic inns. It's in the heart of the historic district, situated along the boardwalk and overlooking the water. The original building dates to the 1860s, and later additions and renovations have this inn sprawling over its large lot with lush landscaping and a quaint picket fence.
http://www.roanokeislandinn.com